Raw Veganic 24K Gold Dark Chocolate White Mulberry Clusters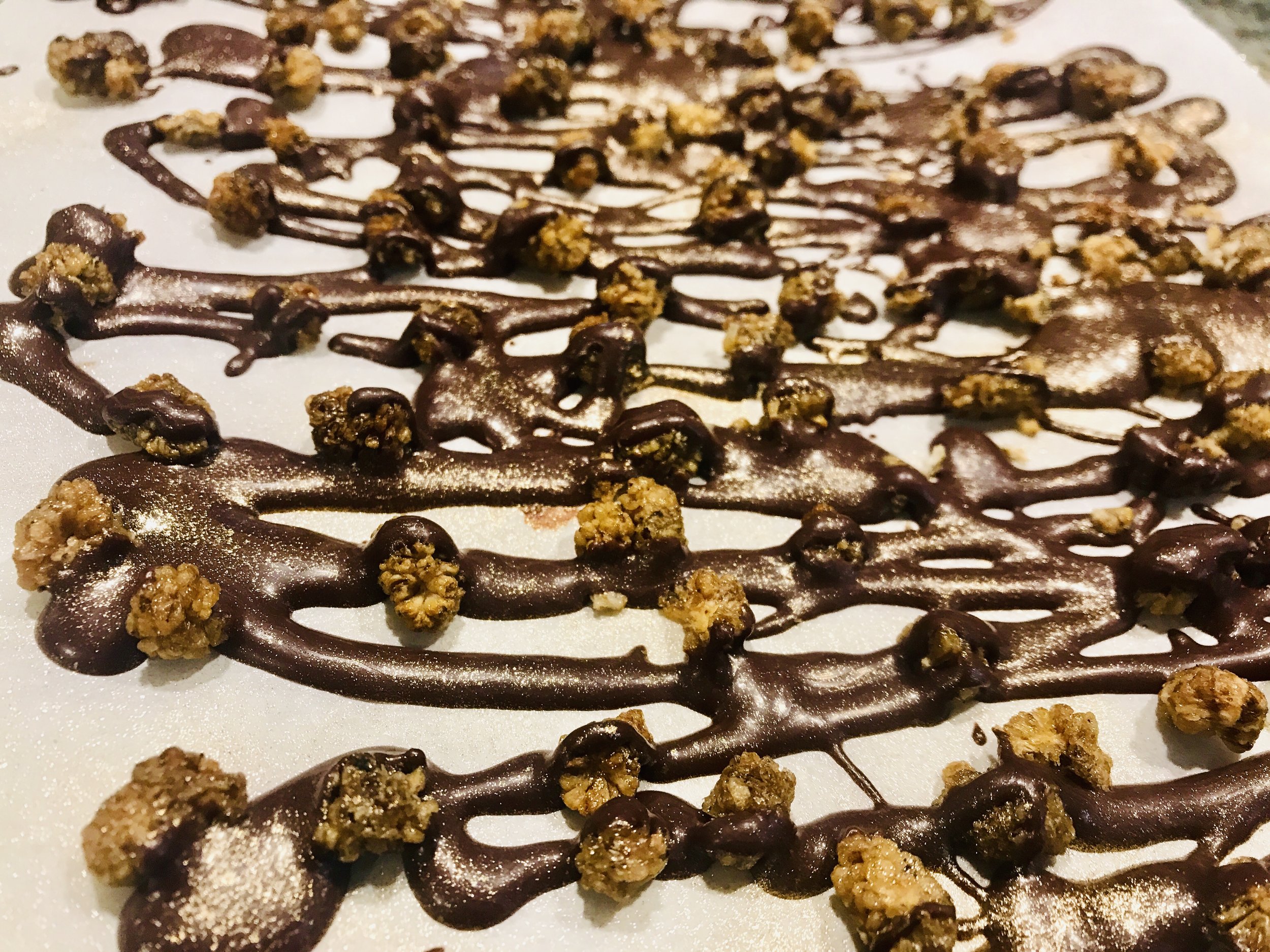 Raw Veganic 24K Gold Dark Chocolate White Mulberry Clusters
Experience Our Raw Chocolate White Mulberry Clusters…
The absolute perfect snack! Super satisfying, you'll only need a few… Featuring Organic Sundried White Mulberry Clusters Drizzled in our Raw Veganic Dark Chocolate Dusted with 24K Gold & the option of Pink Himalayan Salt! Comes in a eco-friendly glass jar for fresh storage & convenience!
sale
SHIPS WORLD-WIDE. This jar of Handcrafted Artisan Stoneground Raw Veganic Hand Dipped Dark Chocolate Covered Mangos is dusted with 24K Gold, infused with 432hz + 528hz frequencies & the intention of peace, love & healing! Handcrafted in micro-small batches, just for you! See our shipping/local delivery information for more details.
Featured Ingredients:
Heirloom Peruvian Cacao: The antioxidants in raw cacao offers a multitude of health benefits: cellular defense against the effects of free radicals, improving the look of aging skin, as well as promoting cellular repair & rejuvenation! Our chocolate is made from 100% pure stoneground cacao beans that have been sun-dried and fermented at low temperatures using high quality & highly-prized Criollo variety beans, grown in the fertile soils of Peru. Never heated past 111 degrees fahrenheit or processed, the raw cacao used in our vegan chocolates is of the most natural, rich & decadent!
Lucuma: An Incan superfood with a mellow-caramel sweetness. Being so high in vitamins, minerals, antioxidants & flavonoids while being low on the glycemic scale, it can help fight and prevent overall disease, inflammation & diabetes. It is also rich in iron, potassium & vitamin C, making it the perfect pairing natural raw sweetener!
Coconut Oil: To make our chocolates rich & creamy, we use a small amount of raw sustainably grown coconut oil from Indonesia. Don't be fooled, in small amounts coconut oil is high in healthy saturated fats that have different effects than most other fats. In fact, they're rich in heart healthy MCTs that do both the body & brain good! It can help raise the good LDL cholesterol in your body, reduce your hunger, sustain energy levels & boost fat burning.
Dried Coconut Blossom Nectar: We use coconut blossom nectar that comes directly from sustainably grown Indonesian coconut trees. It is made by evaporating coconut sap from the tropical palm flowers. Farmers gently cut the buds and collect the sweet nectar using traditional methods. The syrup is then low temperature kettle-warmed, dehydrated & ground into crystals to make a delicious sweetener!
It is known to absorb in the body slowly thereby maintaining normal levels of blood glucose/sugar, unlike other sugars which spike blood sugar levels. Coconut sugar scores a mere 35–40 out of 100 on the glycemic index scale & also provides vital nutrients and minerals which can promote healthy body function & can help prevent illness. According to the Philippine Food and Nutrition Research Institute, it contains significantly more potassium, magnesium, zinc, iron, phosphorus, nitrogen and sodium than brown or white sugar!
Pink Himalayan Salt: Compared to regular table salt, Pink Himalayan Salt is Ancient in both its formation & mineral abundance. It's health benefits include: promoting blood sugar health, sinus health, bone strength, prevention of muscle cramps, energy production & absorption of food particles. It also supports vascular & respiratory health, libido & immunity, regulates sleep & mood, stabilizes heart rate & blood pressure, as well as extracts excess acidity from the body! When used sparingly, it's truly a powerhouse for the body & soul! A great detoxifier that adds the perfect hint of salty goodness to compliment our raw chocolate!
*RAW, Vegan & Organic Ingredients:
White Mulberries, Peruvian Criollo Cacao Nibs, Dried Coconut Blossom Nectar, Cacao Butter, Coconut Oil, Lucuma, Fermented Cacao Paste, Madagascar Vanilla Bean, Pink Himalayan Salt, Edible 24k Gold, LOVE & 432hz/528hz.
CONTAINS: COCONUT.
PROCESSED IN A FACILITY THAT USES PECAN, WALNUT, ALMOND & COCONUT.
*Our ingredients are fair-trade, sustainable, as well as planet & animal-friendly!
This product was made in a home facility that was not inspected by the FDA.